Spring is the season of beauty. Flowers make the days more colorful and many women want to follow this trend through fashion. But you need to protect yourself from temperature drops or colder days.
Neutral pieces are always interesting options. But when to use different prints, seams and textures? It can be a difficult task to combine trendy items with wildcards. That's why we've prepared a list of The 4 Tips for Dressing Women's Spring Coats.
1- Buy a blazer
Have at least one blazer in your closet. For this season, larger, oversized linen, stretch wool, double-breasted blazers with side pockets will be on the rise.
These pieces can be worn with a maxi skirt. A wild look that can be reused in the fall. Invest in linen, satin, ribbed skirts with studs and a ring.
2- Invest in work clothes
Tailored coat can be an interesting piece to use in business environments. Choose simple, crisp, neutral colors. At first, elegant tailoring can convey a more serious look, but the classic can be surprising if used creatively.
For example, you can wear a well-fitting long-sleeved white blouse with a black blazer vest made from a tailored wool blend, with a stylish buckle belt to create a special accent at the waist.
Straight pants with a pivot print in brown combine perfectly. For a more serious and elegant composition, a long-sleeved cotton double-breasted blazer can be worn in colors such as cream and off white.
To give it a more imposing look, choose pieces that contain square side pockets and a set of three double gold buttons. If the blazer does not have this set of buttons, choose a large gold brooch to wear next to the lapel or on the collar of the dress shirt that goes inside it. The brooch can also contain stones to make it look even more elegant on luxurious social occasions.
3- Use leather in many ways
The leather jacket is an interesting accessory to add to your spring 2023 coat collection. You can use the jacket in raw leather, smooth or even with some print on the back. Zippers, buckles and belts also help complete the look.
If you want to escape the motorcycle look, you can opt for an earthy leather blazer, with buttons and side pockets. Along with it, pair it with light jeans or a pencil skirt in a neutral color like white or black. The bottom part can hold extra accessories if your blazer is completely plain. So choose skirts or pants that can be worn with distinctive buckle belts or zippered side pockets.
4- Invest in vibrant colors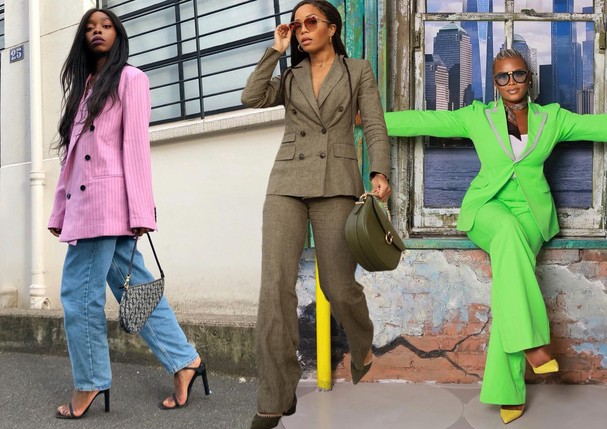 Cheerful colors are well represented in spring. Therefore, do not fill the closet only with sober colors. Reserve space for at least three more cheerful pieces.
This year's predominant color is acid green and pistachio tones. If you don't want to be too daring, wear a black bomber jacket with an acid green wool polo shirt underneath. Brown pants with a delicate floral print can complete the look.