White is that colour that we can literally match with every other kind of shade we have in our closet, thanks to its being so minimal and simple to combine. But makes this colour so special is especially the fact that white has no season! It can be worn in every moment of the year, not only in spring and summer as many people think, but also during the cold months, creating an outfit that has nothing to do with the usual black we are so used to show off during the cool period.
A particular type of white clothing that is very feminine and elegant is the off-shoulder tops. It is already known how our bared shoulders can be incredibly sexy, especially if they have been tanned during the summer. Off-shoulder tops can add a touch of elegance to every outfit we are going to choose: it doesn't matter if they are crops tops or longer tops, or if our bottom will be a pair of jeans, a skirt or whatever, it will be perfect either way, I can promise!
So, now you may be wonder which are the shops where to find the most fashionable white off-shoulder tops for women. There are really a lot of them, since this is a type of item of clothing that never goes out of style, but today I am here to tell you the online shops where it will be a lot easier to find the white off-shoulder tops that can satisfy your needs, since these shops in question offer a wide range of these, thanks to their always being updated and in steps with the times. Let's start!
By scrolling on this website, you can't help but notice how many tops they sell! They are sold in every colour you may imagine, and white is of course one of these. So, you will also find many pages entirely dedicated to the white off-shoulder tops. For the tiny babes, there is the petite section as well!
You can't never go wrong when you buy on Shein. This huge e-commerce thinks of every type of woman, as you can see on the plus size and maternity section, for example. And how cute is the top in the picture?
Another big online shop where you will be spoiled with choice. You can decide which white off-shoulder top can be most suitable for your tastes. I can't help but recommend the one with the puffy sleeves you see in the picture above, but take your pick!
The items that this British fashion retailer sells are something you will never regret. All items are super-hot, and this applies to the white off-shoulder tops too, of course! What makes this website so lovely is also the fact that products sold are high-quality.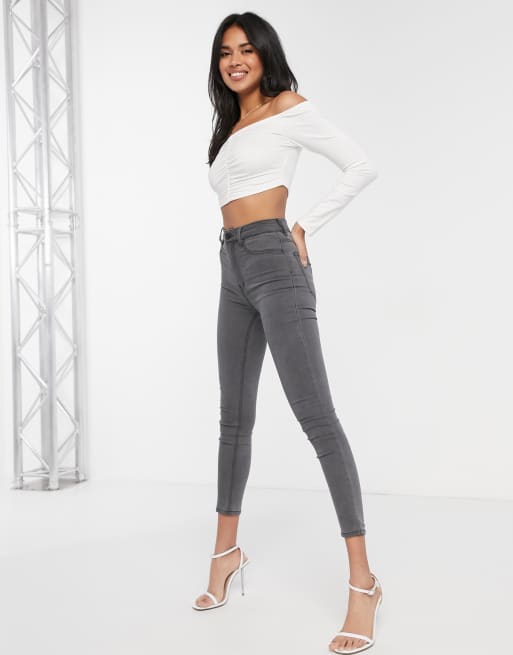 Let's not forget of another very big online shop, where fashion and top quality are their keyword and their mantra. Here you will also be able to choose among a huge amount of white off-shoulder tops!