Fashion is more than what you can see with your eyes. Being a fashionista is more than just having the latest brand products or knowing how to put together an outfit. If you want to be fashionable, you have to be careful with your handbags.
Most women think that their bags say something about who they are. There is a bag for every style and taste, but there are so many to choose from that it can be hard to figure out which one is best for you.
At least one designer bag should be in the closet of every fashionista. Our guide has everything, from old Louis Vuitton bags to the newest designers. From a Passerby to a Fashionista, You are Only One Bag Away!
Choose a bag from our collection if you want to invest in something that will always be in style.
1. Birkin bag by Hermes
The Birkin bag is one of the most-wanted handbags. It can be called a tote bag or a designer luggage bag, but one thing is for sure: since it was first made, it has been a symbol of luxury for the rich and famous.
The Hermes Birkin is made with craftsmanship that can't be beat. If you travel a lot and want to keep your things safe, check out the Birkin. This bag is perfect for you if you want to look stylish.
2. Bottega Veneta Intrecciato Handbag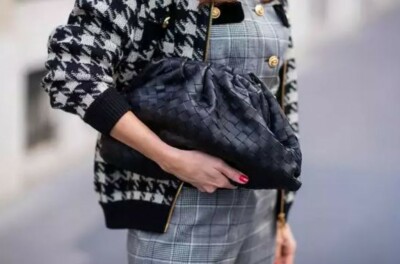 Intrecciato is an Italian style of weaving leather that has become more popular since Veneta used it. This trendy intrecciato weave makes the material stronger.
This bag has a carabiner clasp and semi-adjustable straps, as well as an open pocket and a zippered compartment inside. If you like collecting bags, you'll like how this one is made with such care.
3. Lady Dior Bag
The Lady Dior bag is both trendy and classic. It looks both formal and fun at the same time. The size of this bag is perfect for carrying the most important things, but there is still room for a few extras.
Choose a top and a shoulder strap that go with it for the most comfortable fit. With a design this beautiful, simple, and classy, you can use for anything and it will last. This is the perfect match for you, ready to go with you to your most formal and elegant events for a touch of understated luxury.
4. Chanel Flap Bag
The Chanel Classic Flap is a well-known style and one of the most desired handbags in the world. Because the Chanel Classic flap bag is quilted, you can wear it with a lot of different outfits and color schemes. No matter how you're dressed, this high-end handbag will make you look better. It's an important part of your wardrobe that you'll want to keep for a long time.
5. Senreve Voya Tote
The Voya Tote is a great bag for running errands and going out to lunch while carrying your things. It has a microsuede compartment for a laptop that can hold a 14-inch device and eight other compartments for other things.
There are a lot of useful and practical everyday bags out there, but this elegant leather tote stands out. Even though it looks simple, it's great for any busy girl-boss because it has compartments, a sleek finish, and ways to keep things organized.