The minimalist style is very simple, clean and elegant. There are no bold colours, prints or strange mixes, there is no big and sparkly jewellery, no ruffles or any other complicated designs in it, which might make it seem very boring. But it really isn't, quite the opposite!
The minimalist style has at its basis the principle less is more, which means to keep everything very simple and put together. For this reason is adored by many women nowadays, because this style implies having in your wardrobe basic pieces, with clean cuts. When you combine such pieces your look will become very elegant and it will actually look very expensive, especially if you own a few high quality and well-tailored clothes. So, you will rather get a luxurious style that goes into the haute couture part of the fashion world, which is an amazing thing!
What are the best colours for the minimalist style?
This part is a bit more complicated because if you want to adopt the minimalist style is best to always go for monochromatic looks. This means you can choose to wear all-black outfits, all-white ones, combinations of beiges or browns mostly. Another great combination of colours is white-grey, which is more appropriate for minimalistic office outfits! You need to keep your colour palette very simple and basic. You can also choose to add a pop of colour like light pink or mint.
A great combination can be composed of a basic white shirt, a pair of beige trousers, nude stiletto heels and a beige trench coat. This is such a classy look in which you will feel so empowered as a woman!
Can you go for a minimalist sport style?
The answer is yes! If you do not like to wear heels or to dress very elegant and are more into comfortable clothes, then you will be happy to know that you can go for a minimalist sport style easily. Go for a well-structured T-shirt dress in black, choose a pair of black sneakers and a black bag pack and you will have an expensive-looking outfit in the minimalistic area.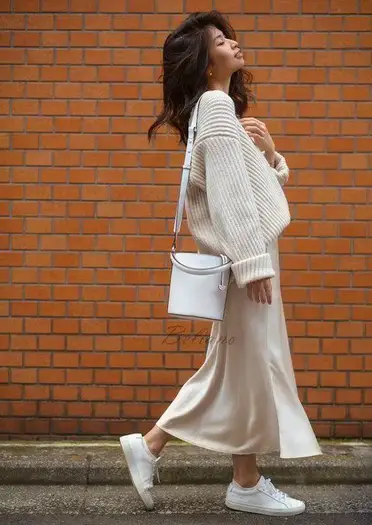 Regardless of the style, you prefer elegant, sport or casually elegant, if you want to switch to a minimalist style remember that you need to go and buy a few basic pieces without which you won't be able to create your outfits. Such pieces are the white shirt, the beige trench coat, a pair of beige trousers, a pair of flared navy trousers with a high waist, a basic turtle neck blouse, the white T-shirt, a clean-cut tote bag and of course a pair of stiletto shoes and a pair of white sneakers!