The most crucial part of an outfit is its style to achieve the goal you want to for yourself's fashion and appearance. Also, your outfit should match the season of the year to keep your fashion updated and in-trend.
When you know what type of boots to wear, you'll be able to elevate your fashion statement and protect your feet from cold weather and slippery roads. Not only that, some are made to make you look taller and slimmer!
Now, are you getting curious about the latest trend of chic boots you can choose from all of the boots out there? Check out the list that we have prepared to limit your choice while feeling fun and easy browsing.
SNAKES AND PEARLS
If you're planning to go on a vigorous hike in the wild this spring, nothing is too comforting to know that your feet are safe and protected. Since most of the time, failed hikes are due to fatigue and feet bruises (not to mention the slippery trails in spring). So opt for these half boot pearls that are very feminine because of their white pearls and floral embossing zigzag sole. Its heel will give you enough length, especially if you pair it with tight-fitting jeans.
A LEOPARD IN MY BOOTS
Spring is for jackets and vests, which hide out perfectly curving bodies. It may seem a problem if you want to impress others with how you look but owning a captivating boots style will solve the problem. Get a boot that is easy to see, like this animal print leather boots from Desigual.com. It has a thick serrated rubber sole ideal for spring and an exotic and bold leopard print.
QUILTED AND LACE-UP
Have you ever tried matching a quilted lace-up boot into your maxi dress? If not, you should give it a try as the length of your dress makes you look sexier while your boots give more emphasis to your legs. Well, don't just wear any shoes; get quilted lace-up boots. It's in faux leather (soft and comfy), with a partial quilted design, lace-up closure, lug sole, and low block heel.
BACK TO BASIC – LEATHER
Don't disregard skirts this spring season, since you can wear a jacket over them, and it is one of the best matches for leather boots! Of course, if you want to look sexier, slimmer, and taller, without any doubt. The added height from the boot's sole makes your legs look thinner and longer, which adds more to your captivating appearance.
SO PINK AND GIRLY
Why waterproof boots? Why not! Summer is coming, and you need to protect your feet from rain and moisture. Also, these waterproof boots from HM.com are so cute and girly. The near pink color and the lacing in the front and back feel comfy and look adorable. You can pair it with tight jeans or an above-the-knee dress for a slimmer appearance.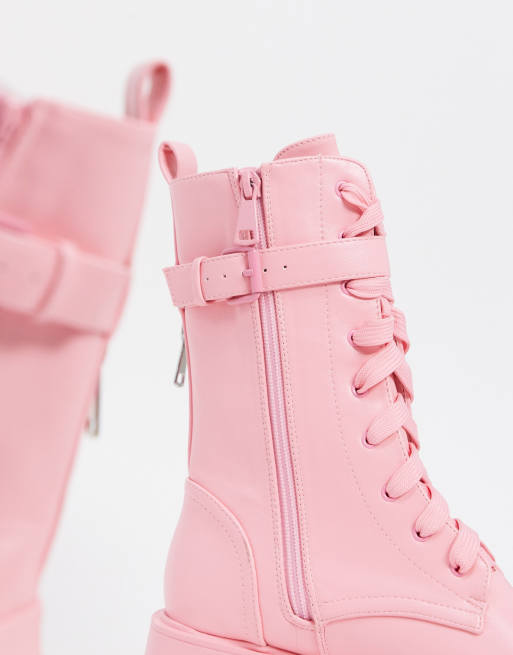 It is no doubt that boots can make you look taller and slimmer no matter the season. You only need to find the right combination of outfits to match the style of your boots to maximize its design's potential. So this coming spring, you have all these boots to choose from to level up your fashion sense.